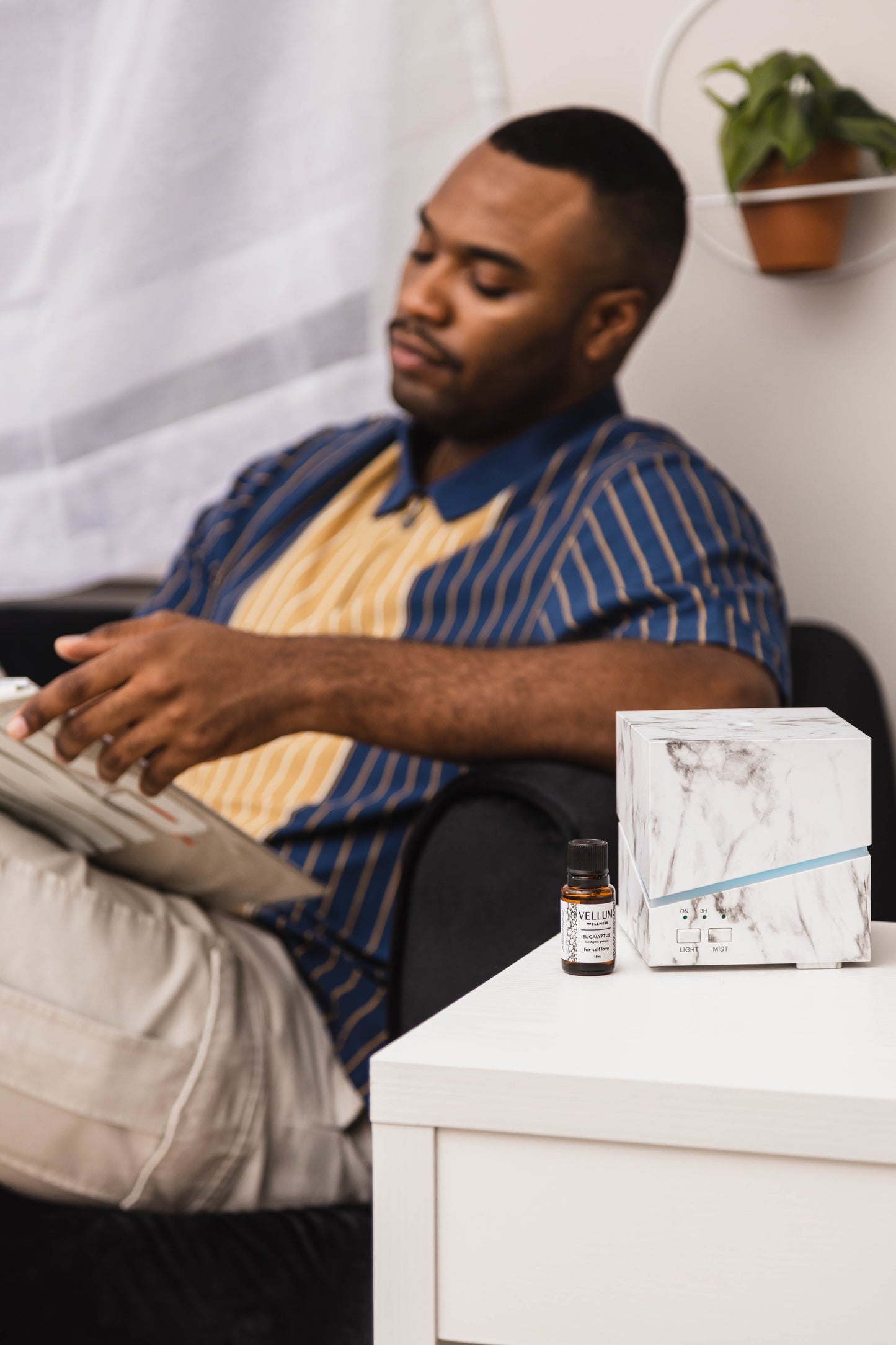 We know that what you choose to put in your living space is important, and sacrificing function for beauty is not always realistic. That's why we were inspired to design Carrara, a sleek, modern, ultrasonic diffuser that's square shaped with a soft-white and grey marble-print design that makes a great addition to any room. It fits in yet stands out in any space, clean or cluttered, and effectively fills the surrounding space with your favourite essential oils and blends in mere moments, maximizing the wellness benefits plant oils possess.
Benefits of Aromachology
Carrara was created to deliver both physical and mental benefits via what is known as aromachology – the science of scent, and its impact on emotion. Using an essential oil diffuser is one of the most effective home-scenting methods which, when using plant oils that are 100% pure and non-toxic, is a safe and powerful wellness tool. For every emotion, there is a scent to match. By selecting the right essential oil, you can influence your mood – lemon gives you a boost of energy, bergamot heightens self-esteem and Dreamscape soothes the mind before bed. Carrara is a top-of-the-line ultrasonic diffuser that atomizes water and essential oils into small particles in the air for an enhanced overall experience.
Where to Use Carrara
Special attention was paid to making Carrara's presence discreet. It's near-silent and its square and modern design fits seamlessly into spaces, particularly complimenting kitchen and bathroom areas with granite, or marble surfaces, and make for a tasteful statement piece in rustic interiors. Carrara has eight coloured light options with a bright and dim option for each to match the space and mood of its user. Its square shape lends to its universality, fitting snugly into shelves, corners or against a wall, leaving no space behind it for dust to collect. Carrara is popularly used in kitchens, exercise rooms and office spaces, as its bright colouring compliments heightened energy levels of the users around it. Carrara is lightweight and easily transportable, and effectively improves the mood and vibe of any given space.
For more information on Carrara and its features, please click here.