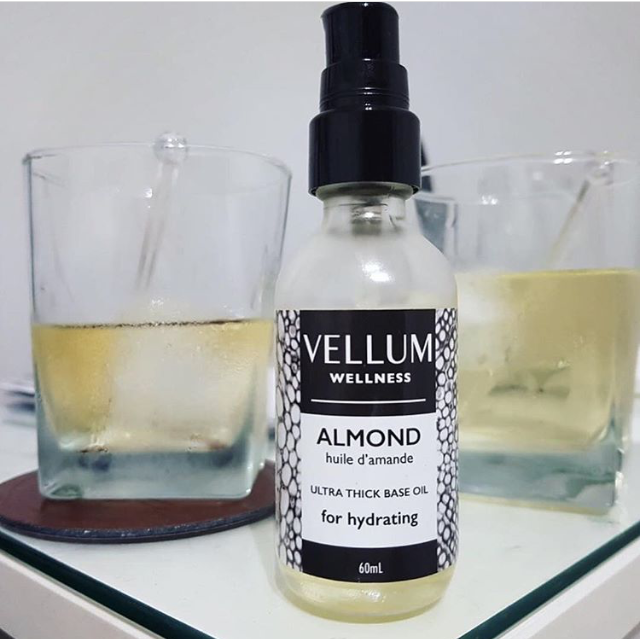 Almond Oil Benefits for Skin, Hair, Nails, And More
Winter is around the corner (we tried so hard to not say winter is coming) and while the season signals a calmer approach to life, if you live in temperate weather, it wreaks havoc on everyone's skin.
Moisture is key in the winter, as harsh conditions and wind chill dry skin out, leaving pores exposed to the elements. The result of worn winter skin is chapped, cracking skin that is unsightly and painful. Using a nightly moisturizer helps to moisture lock the skin, and Sweet Almond oil is the best facial oil to use when days get shorter and nights get colder. 
Using Sweet Almond oil each night will make winter cower at your doorstep. Almond oil benefits for skin are attributed to the many powerful vitamins and antioxidants found in almonds. These vitamins include Vitamin A, Vitamin E, potassium, monosaturated fatty acids, and zinc. Almond oil contains the holy grail of skin vitamins which is Vitamin E.
Vitamin E is like the tooth fairy for skin. While you're sleeping, it repairs your skin cells with antioxidant magic that staves off free radicals that cause deterioration of collagen in your skin. We naturally lose collagen every year as we age, and lifestyle factors like pollution, sun, and smoking ramp up the process. Vitamin E protects the skin from UV damage, and retains moisture, keeping your skin looking healthy and radiant. Sweet Almond oil also contains anti-inflammatory and can boost the skin's immunity, all good reasons to incorporate it in your winter skincare regimen.
Here are the top 5 Almond oil benefits for skin, hair, nails, and more.
1. Natural Cleanser
Washing your face with Sweet Almond oil won't make your skin greasy. Cleansing with oil helps enrich your skin with the vitamins naturally found in the Almond oil. This oil penetrates deep into the skin and purges toxins, dead skin cells, and adds moisture and vitamins into the skin. If you work outdoors and/or wear makeup, you'll find that you get the gunk off quickly, and thoroughly.
To use: Work 1 pump all over your face and then use soap or a cleanser to wash off the oil and reapply 1 pump after cleansing as an overnight serum. Use with a facial roller to relax the face muscles and further work the oil into the skin.
2. Dry Skin Relief
Almond oil is the best oil to use for all skin types during winter but generally, it's the best for those with dry skin. The fatty acids found in Sweet Almond oil reduce skin inflammation, and ensure that skin retains moisture while healing red skin, irritated skin, and chapped skin. The best thing about Sweet Almond oil and carrier oils overall is that they're effective while still being gentle. The last thing your skin needs in the winter is a sting from harsh products.
To use: Apply to any dry or cracked patches on the face or body. Use as much or as little as needed.
3. Fade Blemishes and Scars
The zinc and vitamin E found in Sweet Almond oil work together to fade blemishes and hyperpigmentation over time (not overnight!). This oil also works to fade stretch marks and it's done by evening out the colour of the skin and repairing scar tissue.
To use: Apply over the affected area nightly and give it at least three weeks to see some change. Add 1-2 drops of Geranium essential oil or Grapefruit essential oil to speed up the process.
4. Rejuvenate Your Scalp
Use Sweet Almond oil to moisturize your scalp and remove dead skin cell buildup. This gentle scalp treatment will soothe itching and flakey dandruff by providing much-needed hydration to the skin cells on your scalp.
To use: Add 1 pump into hair, and work into the hair by kneading and massaging the scalp. For a healthy boost, add 1-2 drops of Lavender essential oil or Eucalyptus, both are great for curbing dandruff and thickening hair.
5. Stop Brittle Nails
Our hands take quite a beating in winter. It's important to keep your hands moisturized and your nails healthy. Invest in a good pair of gloves, carry lotion when you're on-the-go, and treat your hands to a warm massage at night to keep them supple and soft.
To use: Pour 1 pump onto hands and rub over nailbeds, palms, knuckles, and wrists.