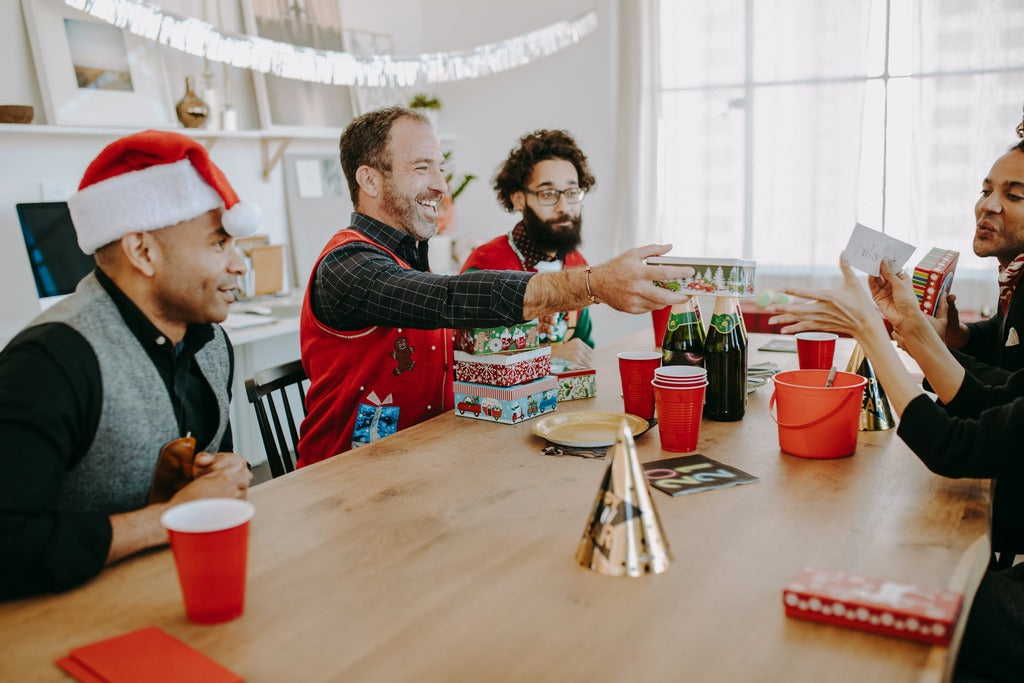 The holiday season is upon us, and what better way to show your loved ones that you care than with thoughtful gifts that promote well-being and self-care? At Vellum, we believe in the power of natural remedies and self-care rituals to enhance the quality of life. Our holiday shop is now live, and we've curated a delightful selection of gifts that will bring joy and relaxation to those on your list. Let's explore some of the top picks this season!
Marquina Diffuser: Elegance meets serenity
The Marquina Diffuser is a stunning work of art that not only diffuses essential oils but also enhances the aesthetics of any space. Inspired by the natural beauty of the marble, this diffuser offers a sophisticated way to experience the benefits of aromatherapy. The Marquina Diffuser's delicate, ultrasonic vibrations disperse your favorite essential oil blends into the air, creating a calming and fragrant atmosphere. It's a perfect gift for anyone who appreciates both beauty and serenity in their life.
Carrara Diffuser: Timeless Tranquility
The Carrara Diffuser is another surefire gift that is universally loved. It's designed to bring peace and tranquillity into your surroundings. With its pure, white marble-inspired design, this diffuser adds a touch of timeless elegance to any space. Like Marquina, it uses ultrasonic technology to disperse essential oils throughout the room, creating a harmonious atmosphere that soothes the mind and spirit. The Carrara Diffuser is a thoughtful gift for those who appreciate classic design and moments of stillness.
Add a touch of luxury 
This holiday season, go the extra mile with the Vellum Luxury Kit. This exclusive set is a comprehensive self-care package that includes precious Chamomile essential oil, Jojoba Base Oil and Lympha Facial Roller.  The Luxury Kit is designed to take self-care to a new level, helping your loved ones achieve a sense of well-being and balance in their daily lives. It's the ideal gift for those who value self-care, relaxation, and natural remedies.
Deluxe Skin and Hair Kit: Nourish and pamper
The Deluxe Skin and Hair Kit is a gift of natural beauty and care. This luxurious set includes a selection of our best skin and hair care products, each formulated with clean, plant-based ingredients. From natural hydrating serums to rejuvenating hair oils, this kit is designed to pamper and nourish, leaving the recipient with a radiant and healthy glow. Give the gift of self-love and rejuvenation with the Deluxe Skin and Hair Kit this holiday season.
Tour our holiday shop for more 
We're delighted to announce the Vellum Holiday Shop is now live and ready to bring joy and well-being to your holiday celebrations. In addition to the featured products mentioned above, our holiday shop offers a wide range of wellness and self-care gifts, including essential oil blends, gift sets and more. Whether you're looking for a thoughtful stocking stuffer or a luxurious gift set to spoil someone special, our holiday shop has you covered.
At Vellum, we believe in the power of nature to inspire well-being and offer natural solutions to enhance your quality of life. Our products are created with care, using 100% natural, plant-derived ingredients. This holiday season, give the gift of wellness, relaxation and self-care with Vellum.
Don't wait! Visit our holiday shop today and explore our full range of products that will make this holiday season truly special. Show your loved ones how much you care by giving the gift of well-being and serenity.
Visit Vellum Holiday Shop to explore our full selection and start spreading the joy of wellness this holiday season. Make this holiday season unforgettable with Vellum!