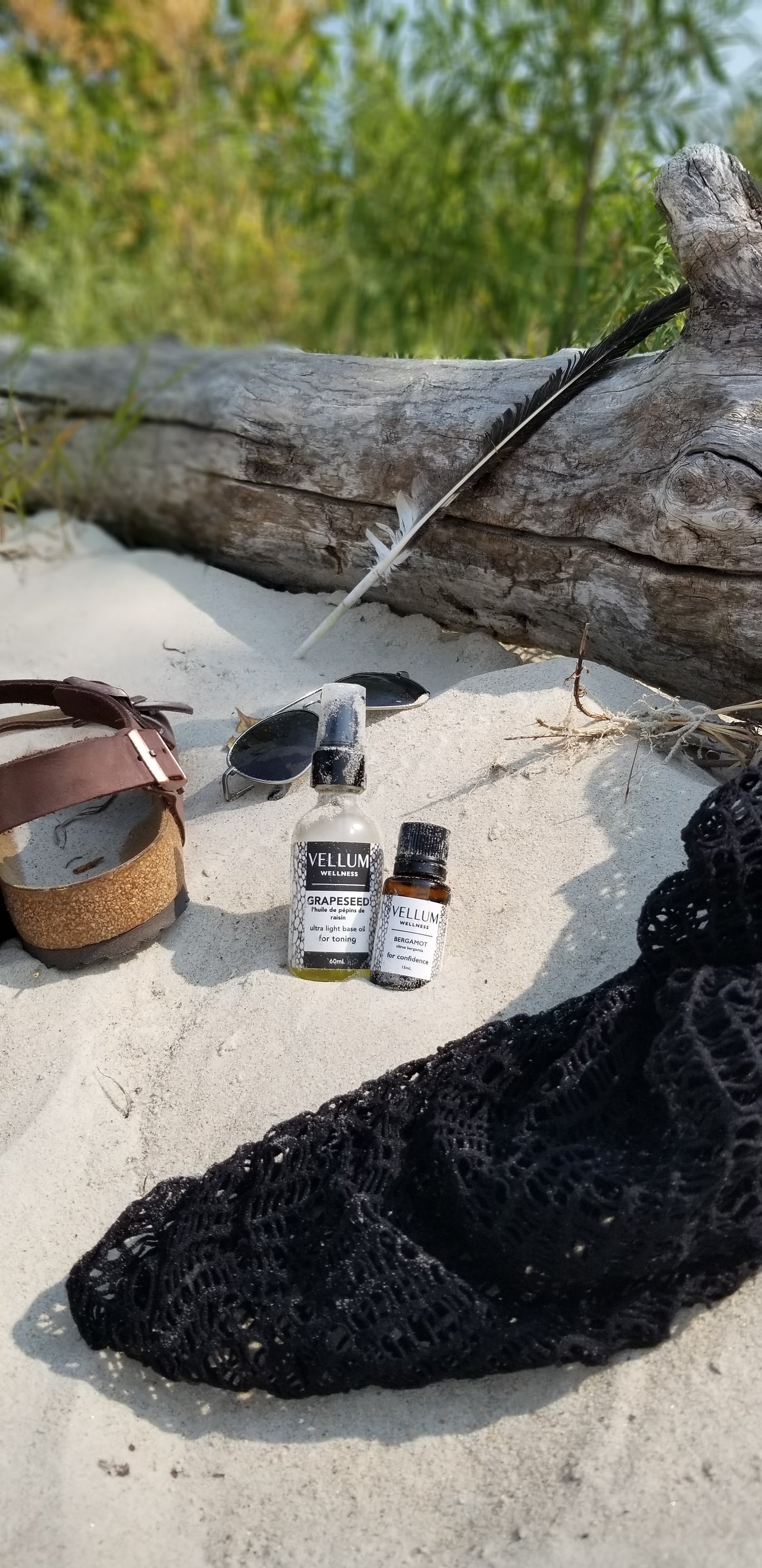 Make room in your beach bag for these oils
By: Raquel Van Ry
This recent heatwave hit me pretty hard, so I took every chance I got to head to the beach. I packed the essentials – sunscreen, snacks, towel, an umbrella, snacks, water, etc. I personally tend to get bored of swimming after about an hour, and opt instead for some sandy nap time, so loading up on sun-safe products and activities is crucial for me to have a good beach day experience. I especially like to pack a few of my favourite essential oils and carrier oils along to play around with while I chillax. Here are some of my favourite uses for oils on the beach:
Natural Protection
If you opt to use oils at the beach (essential oils or otherwise) make sure that they're steam distilled in order to ensure that they won't be harmful to your skin in the sun. Many lower-quality essential oils are obtained via cold press extraction rather than steam distillation which produces oils that are phototoxic. Phototoxicity in oils can be dangerous if applied topically, as they'll make your skin more sensitive to the sun and increase the risk of sunburn and long-term skin damage. Oils like Vellum's grapeseed oil is not only steam distilled, but actually protects the skin by preventing the absorption of harmful UV rays. Similarly, almond oil possesses a high level of vitamin E which prevents skin cell damage that can be caused from the sun, while simultaneously reversing premature signs aging. These oils are also moisture superstars – they'll moisturize your skin and seal it for lasting hydration, no matter how hot and spicy the sun may be.
Skin Rub
My favourite use for oils at the beach is without a doubt as a natural exfoliating body scrub. Whether you've got calluses on your feet or want to shed the dull skin on your legs and arms, using a carrier oil like almond oil mixed with sand from the beach and 2-3 drops of your favourite steam distilled essential oil like lavender, geranium or ylang ylang essential oil helps get rid of those dead skin cells. Simply rub the mixture over the affected area and behold the gleaming, deliciously scented skin left behind.
After-sun
It's no secret that the beach can be exhausting! Somehow, lazing around is the most energy-sapping activity you can do at the beach, yet it's arguably the best thing to do at the beach. When the inevitable sun-groggies (aka. sun-induced grogginess) come around, keeping a citrus essential oil like lemon or grapefruit is a fail-safe way to give yourself a mental boost and chase away the brain fog. Once you've treated your mind, it's time to apply a few drops of peppermint or chamomile essential oil to your skin, diluted in a healing carrier oil like hempseed oil to soothe the skin and relieve sun damage or discomfort you may have after a day in the sun.
While carrier oils and essential oils make a great addition to your beach bag, please be aware that we still encourage the use of sunscreen and other forms of natural sun protection to maximize your safety in the sun. For more information on Vellum's carrier oils, click here to read more.