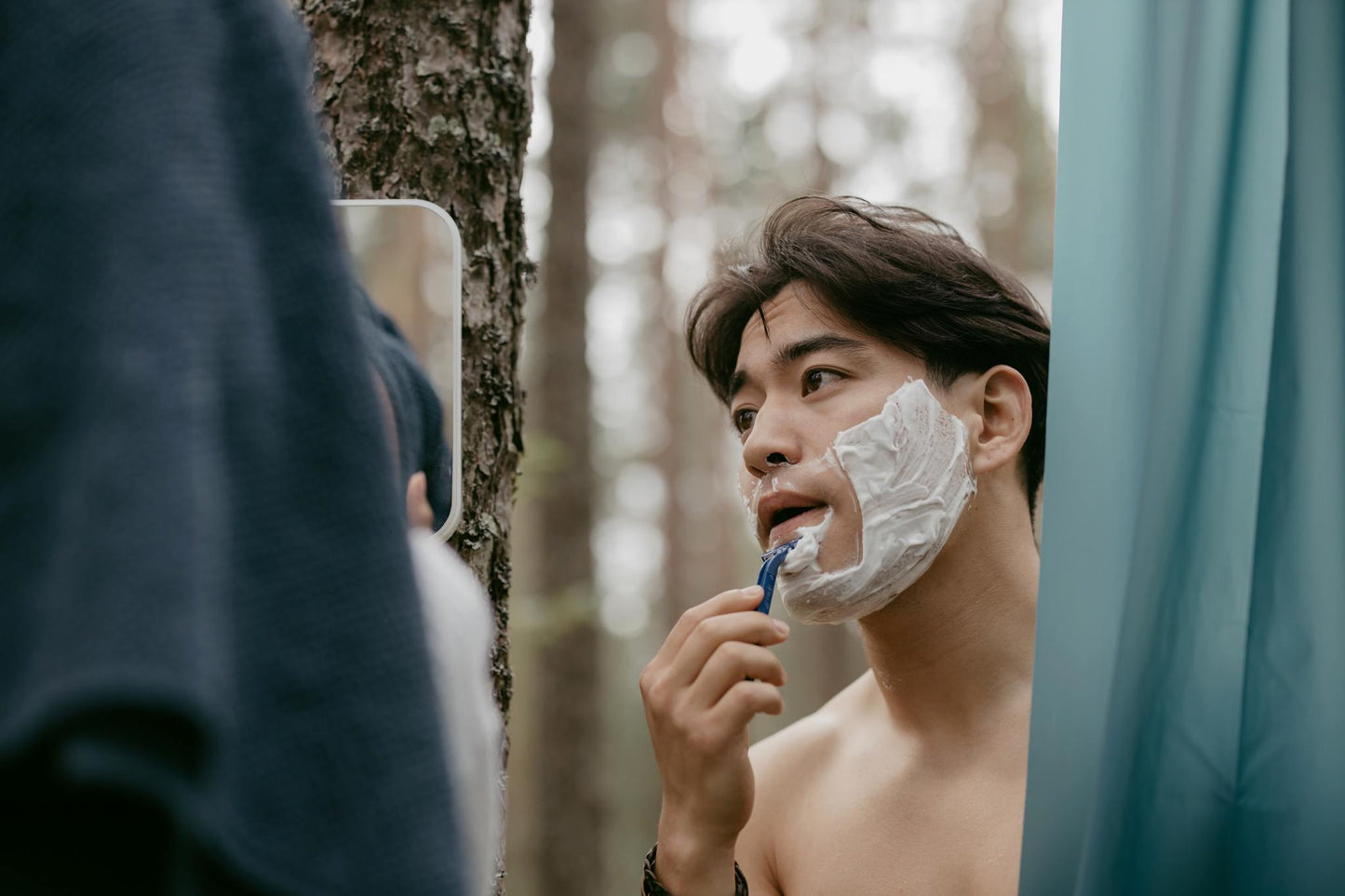 There's nothing sexier than being well groomed.
By: Raquel Van Ry
Facial hair trimmed and maintained, and hair neat (or tousled), nicely framing the face. Facial hair especially, is the equivalent of makeup. Forget contouring, nothing makes a jawline sharper than a clean beard line! My partner sports a beard that I adore, mostly because without it he looks like a child. The only bad thing about beards and man-buns, is when they aren't maintained, they look more like a dust-bunny that's stuck to your head rather than an intentional look. This is where grooming products come in. Self-care and grooming has never been more popular for men, and there's a vast number of balms, oils and tools out there that can get a little overwhelming. Self grooming doesn't have to be so complicated, let's break it down.
 Pre-shave
"Pre-shave? You might ask, you're not alone. Most people just lather on soap or conditioner to get the job done but they're going about it all wrong, oil is where it's at! Applying a thick oil like Almond oil to facial hair prior to shaving preps the skin and hair to make the shaving experience as pleasant as possible. Simply add 1-2 pumps of the oil to your hair and let it sit for a minute so it softens the hair follicles and smoothes skin. The result is less razor burn, fewer nicks, and a far less painless process.
Post-shave
Immediately following a fresh shave, it's crucial to apply a post-shave treatment to avoid ingrowns and irritation. Tea tree and Eucalyptus essential oils both possess anti-microbial and anti-bacteria properties, making them key ingredients in post-shave blends. Simply dilute 1-2 drops of one or both of the oils in Hempseed oil and gently rub it into your skin. Hempseed oil combats inflammation, while it simultaneously soothes and repairs your skin, leaving it moisturized and protected for the day to come.
Beard oil
Every beard needs a beard oil to keep your beard smooth, soft, and healthy. The best thing about beard oils, is that it's super easy to make your own blend that appeals to your senses. For example, using Jojoba oil as a base oil will thicken and hydrate your beard while also taming stray hairs. Adding a few essential oils like Cedarwood and Patchouli will make for an irresistible scent that boosts your mood, while Bergamot keeps the skin beneath the beard healthy and clean.
 Here's a DIY beard oil recipe to try:
1-2 pumps of jojoba oil
2 drops of patchouli essential oil
1 drop of cedarwood essential oil
1 drop of bergamot essential oil
 Scalp treatment
While facial hair is important, don't forget about your scalp! Whether you struggle with hair loss, an itchy scalp, or you simply want to maintain your locks,--using a natural treatment like our Scalp and Hair kit is one of the best ways to go about it. This kit includes Jojoba oil, which is packed with vitamin's A and E. Jojoba balances the skin's oil production, penetrating deeply into the scalp and coating the hair shafts to prevent over-drying and breakage. This kit also includes Grapefruit essential oil which cleanses the scalp and stimulates hair growth.
The best thing about self-care is it's all about finding what works for you! Don't be afraid to experiment and try different oils and products, playing with essential oils is an affordable and fun way to get started. Click here for more information on beard and hair care.