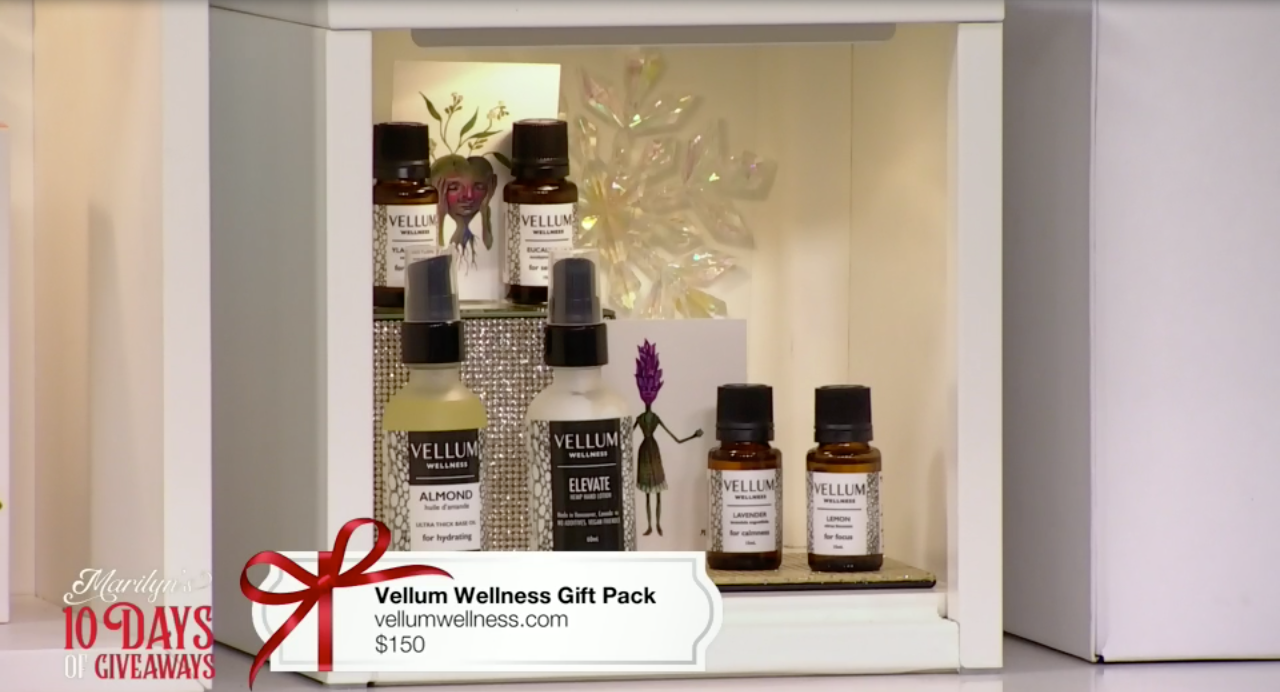 Win A Vellum Wellness
Gift Pack Worth $150
on Marilyn's
10 Days of Giveaways
on the  Marilyn Denis Show
Check out Vellum Wellness at the 9:50 mark on Day 6 of Marilyn's 10 Days of Giveaways
The holidays are fast approaching, and as we move into the last few weeks of the year, we're all thinking about how we can make this time of year special for the ones we love. Whether you're breaking out the Christmas decorations and music right after Halloween or all you can muster is a "bah humbug" the season is definitely upon us. We teamed up with the Marilyn Denis show, Canada's liveliest daytime talk show to give away some Vellum products as part of their 10 Days of Giveaways.
This contest has become a cherished part of the Marilyn Denis Show schedule and tickets for the show are always snatched up early, as audience members eagerly anticipate catching a glimpse of Treanna, Marilyn's spunky Christmas tree mascot. With the Marilyn Denis show going strong in it's ninth season, we thought it was the perfect time to include Vellum Wellness as part of the giveaway.
Marilyn Denis and guest segment host Master Chef winner Mary Berg, unveiled the surprise as part of Day 6 of the 10 Days of Giveaways. The excitement was palpable as Mary discussed her favourite gifts for this holiday season. She did a great job explaining how Vellum products are great for taking care of the inner self, as you make time for yourself this holiday season.
We included a range of Vellum products, including Elevate Hemp Hand Lotion, Eucalyptus Essential Oil (Marilyn's favourite), Lemon Essential Oil, Ylang Ylang Essential oil, Lavender Essential oil (Mary's favourite) and our newest product Almond Base oil from our upcoming Body Essentials line.
You have a chance to win all of these products and all the rest of the gifts included in Day 6 of The Marilyn Denis Show's 10 Days of Giveaways by entering your information HERE
In the spirit of giving, we'd like to offer you a discount code to shop the site and take 40% off your entire purchase using the code VELLUMXMARILYN until January 13th.
Happy Holidays!!